In the last part, we found out the best keywords for our case. We go on with our SEO Tutorial. Now we are going to build our web page following SEO rules and structures.
Step #6: Page title URL and headlines
Easy things first:
URL: To adjust the URL according to our keywords is easy in WordPress. You edit the permalink of that post and paste in your keywords. It's easier because users won't read the link to your webpage so you don't have to phrase for example whole sentences. Just write down the main Keywords.
Title: Type in here your Keywords which are ranked the highest and are also in your URL. Also, the title should be the first thing the User sees when arriving on your webpage. For improving our headlines even more, we will choose different tools.
Coschedule – Headline analyzer
With Coschedule you can write headlines that drive Traffic and search results. It now will help you improve your headline with common, uncommon, emotional and power words. It tells you how long your headline should be and if you should change the Sequence of your words. We tend to read the first and last words only. Furthermore, you can look at how it would look like in google search or as a subject of an email. Attention: no more than 70 characters, because Google search only shows the first 70. Rest will be cut.
Aminstitute – Emotional Marketing Value Headline Analyzer
Aminstitute will analyze your headline to determine the Emotional Marketing Value (EMV) score. A score above 50 on this website is quite good. It's hard to cross 70 or 80 at least for me.

Step #7: The Yoast plugin – Meta Description
It's a WordPress Plugin you can search for and install. Under each of your Posts in edit mode, it will show you a preview of how your post will look like in google. It's just a rendering of what this post might look like in Google's search results. At the end of this picture, you can see I didn't have any description set so google will choose one on its own. Normally the first 150 words of your post.
The people read your description and decide to click on it or not. That's why it's most important to set this up right. So write down exactly what's the benefit for the user or what he can find here. One Tip is to start with a verb.
The tool will help you via a traffic light system what you can improve and where you are doing good. See it as a checklist which you can improve your readability and SEO.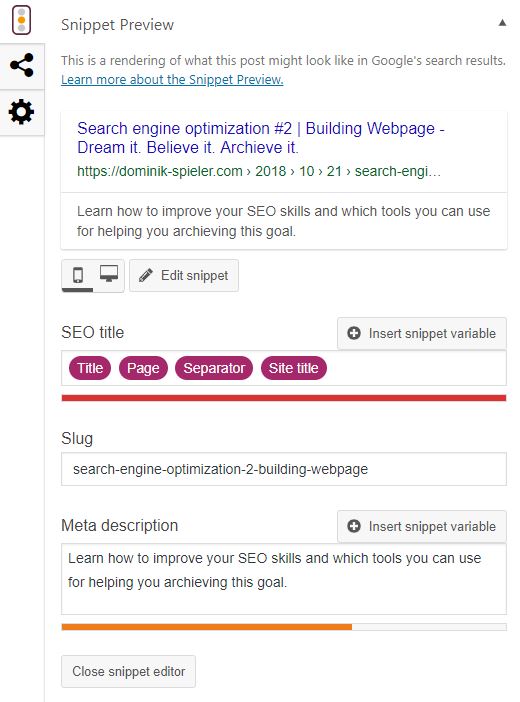 I'm going to test the impact for the next few months… 🙂
Happy learning!